FLEXIBLE PILLOW STORAGE TANKS
Joemillars Pillow Tanks
Pillow Tanks have made water storage very easy and helpful for rural areas, urban areas and hilly areas.
These are customized Tanks according to the needs and requirements of user.
Its ability to be constructed for use in a wide range of locations, facilities and storage areas.
The fabrics can be adjusted depending on the type of liquid being stored.
SPECIAL FEATURES
No civil foundation requirement.
Ideal for temporary facilities created for Police, Army etc.
Easy to install within few hours.
Easy to carry and low transporting cost.
Hygienic, antimicrobial i.e. anti bacterial, anti fungal.
Easy to clean and can be kept exposed in sunlight.
5 years standard warranty.
Disaster Relief Efforts.
PRODUCT SPECIFICATION
Small Capacity Pillow Tank Sizing
Small Capacity Pillow Tanks range in size from 25 gallons to 500 gallons and are ideal for small storage requirements including:
Emergency Drinking Water Storage & Home Storage
Hospital Drinking Water Supply
Construction Site Water Storage
Smaller Military Operations
Very useful for NGOs/Charitable Trusts/Disaster Rehabilitations.


Large Capacity Pillow Tank
Large Capacity Tanks start in a 2,000 gallon size and go up in size to 210,000 gallons. Due to the large volume of many of these units, fabrics used on the tank are typically heavier in weight and rated to handle higher water amounts. Uses include: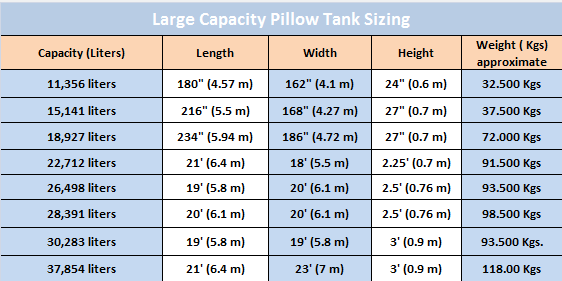 FABRICS SPECIFICATIONS
The fabrics used on these Pillow Storage Tanks can largely depend on the type of liquid you are intending to store within the tank. Working to meet your specific liquid requirements, tanks are constructed with compatible materials. Standard fabrics PVC (REINFORCED),
Quality: B6000- 900 GSM; Panama Weave
Thickness- 0.80 mm
Strength of 4,000 N/ cm, Both Sides Acrylic Lacquered
Temperature resistance upto –30 degrees Celsius to 70 degrees Celsius) & B9115 (With temperature resistance upto –54 degrees Celsius to 70 degrees Celsius).
FITTINGS
Standard fittings for these tanks are aluminum, stainless steel, or polypropylene with cam lock or threaded fittings to accommodate hose.
Sizes range between 3/4" and 2" (larger 4" through 6" available upon request).

Standard fittings include in 1 no. Flexi tank:
Groundsheet
Repair Kit Appx cost Rs. 3000.
Bag to carry tank
1 inlet and outlet flanges with valves, air inlet with cap & Pressure gauge Flange.
Optional Fittings:
Drain or Floor Ports, Emergency Plugs, Repair Kits & Spare Parts.
Workmanship Warranty
We give 5 years Warranty for our workmanship (Fabric Cutting & Welding). It will not stand for any damage during transit and handling.
OPPORTUNITY TO SAVE 45% OF YOUR CAPITAL IN COMPARISON TO OTHER MANUFACTURING OF CONSTRUCTION TANK OF WATER & WASTE WATER STORAGE TANKS.

SAVE OUR WATER
Copyright © 2014 - Joemillars Aquatek India (P) Ltd.